Landmark is a familiar name to all NooTheme customers that remind us of a modern real estate theme that get lots of praise whereas Palazzo is a newbie in this real estate field. Choosing the same niche to develop, these two themes never make us feel disappointed with modern designs, powerful features.
Since launching, both Landmark and Palazzo mark an impression point to the customers thanks to these features.
#1. Specified Homepage Demos
Landmark creates 8 homepage demos while Palazzo dedicates users 9 versions of the homepage. Most of the homepages exactly meet all requirement depending on the target of customers. Find our Home advanced search, Home map vertical, Home map horizontal, home half map, home search map, home single property, home dxIDXpress, Home optima express and Home property landing (Palazzo).
You should explore these two themes for more details information and you will get super pleasant.
#2. Easy-to-manage frontend
Functionality is the first target that our designers and developers keep developing both these theme. With the frontend progressive, users get an easy and quick way to set up, edit or make any changes to get the best suit version.
#3. Easily install and run your real estate business
Both Landmark and Palazzo offer one-click installation, import demo and automatically update the theme and plugin when the latest version is available. As that, you can escape from the worry of forgetting the new update, and easily manage the site after finish the setting process.
#4. Conveniently manage Agent Pages (Agent listing, agent detail)
Agents and properties are always indispensable factors in any real estate theme, and these two themes keep this rule and make them better and better. Users find an informative agents page. (Agent listing and agent details). The more options we dedicate users, the more customers can enjoy our theme and get super pleasant.
#5. Informative Advanced Search
We do not mention this at first, but you know it is one of the most important factors of a successful real estate site. The method leads users to their needed properties in the quickest way is the Advanced search. Both Landmark and Palazzo deserve users a great method to search that like you are enjoying not really experiencing.
Basing on the success of Landmark, which features make Palazzo different?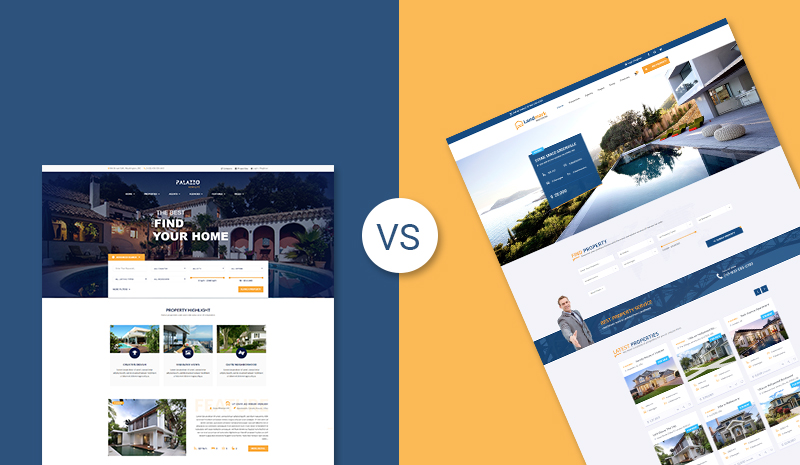 Inherit all highlight features that make Landmark shined during a long time and adding new features from the treasurable time we serve our dear customers. We will list all features here to help you get a total view of Palazzo and Landmark
| | | |
| --- | --- | --- |
| Features | Landmark | Palazzo |
| Home Demos | 8 | 9 |
| Property Listing | Yes | Yes |
| Single Property | Yes | More informative |
| Agent Listing | Yes | Yes |
| Single Agent | Yes | Yes |
| Agency Listing | No | Yes |
| Single Agency | No | Yes |
| Realty Portal Plugin | Yes | Yes |
| Visual Composer | Yes | Yes |
| Slider Revolution | Yes | Yes |
| Property Statistics | No | Yes |
| Submit Property For Sale | No | Yes |
| Submit Property For Buy | No | Yes |
| Properties Compare | Yes | Yes |
| User Profile | Yes | More informative |
| Advanced search | Yes | More informative |
| One click installation | Yes | Yes |
| Auto update theme and plugin | Yes | Yes |
| | | |

#1. Much cheaper price
Currently, Palazzo is offering an amazing price – $39 as the introduction offer, so it's much cheaper than Landmark ($59) at this time. Hurry up! It's also a limited time offer.
#2. Extensive Single Property Pages
During the supporting to our valued customers, we see that users need more information about each property such as the evaluation of the property, virtual reality is seen adding. By this way, users will get the best understanding of the property they are caring.
#3. Smart Agency Pages Adding
How about Agency? Landmark does not offer Agency pages. When you are a site administrator, you need manage agency who contains a large number of agents, agency pages are necessary this time. And Palazzo now offers extensive agency pages including agency listings and agency details.
#4. Lots of front-end improvements
You will get great experiences with new features on the Front-end that are exactly comfortable. Such a good example! User profile allows you a convenient way to visit again what you save and care or easy-to-manage front-end dashboard with various options like add property, favorites, saved a search, team members and more.
#5. Clear submitting options (For Sale/ For Buy)
Whereas Landmark offers an only way to submit a property, Palazzo gives you 2 option in submitting properties: For Sale – For Buy. Now you can enjoy a convenient way with fully clear sections in creating new property (For Sale/ For Buy)
Depending on each aim, developers find that users need different forms that exactly meet their needs.
After all, Landmark and Palazzo are the best choices to build a modern and functional real estate site. If you need to set up the more informative single property page and all related agency pages, Palazzo will be the better option. In case you need a simple and modern style, Landmark still helps your site simply shining.